« Your Calling is Calling! | Home | This One Little Technique Has Earned Me a Small Fortune – Now it's yours FREE! »
By action | February 4, 2008
I will be hosting a webcast this evening (Monday, Feb. 4th) at 8pm Mountain Time (7pm Pacific, 9pm Central and 10pm Eastern).
The technique I will be discussing on tonight's webcast is out-of-this-world – AND YOUR GOING TO LOVE IT!!!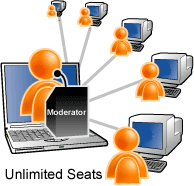 I don't care if you are full-time or part-time with your business opportunity. Anyone can use this technique to recruit a ton of people in a very short amount of time.
And NO it has nothing to do with going to hotel meetings or buying someone breakfast!
CLICK HERE to register for the *FREE* Webcast.
If you are unable to attend the live webcast I will be recording it and it will be available in our premium pay section for a small fee.
Remember this training (as are all of them) are 100% generic. And while I might give you real life examples of how I have used these various tools, tips and techniques to recruit 1,000's and earn millions I will not be discussing any one company or opportunity. SO INVITE EVERYONE YOU KNOW!!!
As you can tell from looking at the date/time stamp of this post it is nearly 3:00am for me. I've been working on this training for days and I'm very excited to teach you this technique which will help you grow your team and YOUR BANK BALANCE!
Call and email everyone you know and tell them to come here ( http://www.JRJackson.com ) so they can hear this valuable information firsthand on the free webcast this evening.
I look forward to talking with everyone on tonight's webcast.
J.R. Jackson
http://www.JRJackson.com
PS CLICK HERE to register for the *FREE* Webcast.
Topics: Uncategorized | No Comments »
Comments
You must be logged in to post a comment.