« Dream Big | Home | The Bailout Continues (aka; stimulus package for broke MLMers) »
By action | January 28, 2009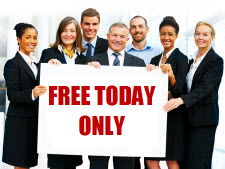 OK, let's get right to it!
My commission checks are up but I have noticed myself questioning certain things that I do based on the negative press about the economy.
Let's face it. Some businesses are having a hard time and that is why they are laying people off. However, a lot of businesses are laying people off because they are able to be just as productive without such a large work force. This is a good thing. These businesses will be stronger and more profitable. So every time you hear of a layoff don't think it is a negative thing.
My commission checks are up for one reason – MORE PEOPLE ARE POSTING THEIR RESUMES 🙂
I have never seen recruiting as good as it is right now. There are so many quality people out there looking for 'something.' And that is who we are looking for – people who are 'looking!'
I'm going to make an offer today which I have never made before.
For the first 10 people who post a comment here AND post a comment either on their website or a social network like Facebook about me and my website (must contain a link back here http://www.JRJackson.com ) I will give you my 'Resume Recruiting' system for FREE.
I spell out step-by-step; where to get resumes, how to get them, what to say in emails etc. etc.
I have left out all of the fluff and I've gotten right down to business in my resume recruiting system.
OK, so if you want to get my system FREE today then post a comment here telling me where you have posted a comment about me and my blog. I will check to make sure the post is there and then will send you my entire system at no cost to you.
Be quick – I expect this offer to be over within a few hours!!!
Successfully yours,
J.R. Jackson
http://www.JRJackson.com
Topics: Uncategorized | 13 Comments »
13 Responses to "Get my 'Resume Recruiting' system FREE today!"
Comments
You must be logged in to post a comment.