« 136 MLM Domains | Home | up-to-date »
By action | October 20, 2012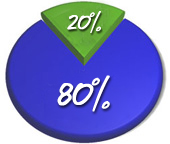 The 80-20 Rule
This one is so important. Some will think it's just fluff!
However, if you are conscious of this then it will make a measurable difference.
Stop focusing on the 80%. You don't need more education, your website does not have to be perfect, your presentation does not have to be perfect, you don't have to know your company presentation backwards and forwards.
These are all excuses for you to not take the difficult money-making action that you know you should!
EXCUSES = WASTED TIME
EXCUSES = MONEY IN THE BANK
Especially if you have not recruited anyone yet, focus on that 20%. What is that 20%?
RECRUITING!!!
RECRUITING = MONEY IN THE BANK
Technical stuff? You can outsource the work – it is not where your time is best spent.
So focus on getting new downline members anyway possible. I recommend my resume system but do cold calls, e-mails, direct mail, webinars, etc.
Anything! Just get money in the bank.
You do 10 cold calls a day for 10 days I guarantee you one of them will join your business. You work on developing your business cards and websites for the next 10 days, I guarantee you that you won't make a dime!
Go make something happen,
J.R.
Topics: marketing tips | 3 Comments »
3 Responses to "MLM 80/20 Rule"
Candy4475 Says:
May 29th, 2013 at 7:21 am

Great stuff…………Aloha from Maui!

jfulmore Says:
January 13th, 2014 at 3:52 pm

J.R. is the truth. Cut to the chase. Once people are done with all of the motivation from the company conventions, books, mp3 files, website video B.S., you're going to end up right back where you started and have to actually do the money producing activity required for success. Everyone wants the shortest short cut and easiest way to the the top. J.R. has the real "SECRET" short cut to success. The elusive secret is, "The sooner you start, the sooner you finish".

action Says:
March 7th, 2014 at 7:00 pm

Thanks Joseph
Comments
You must be logged in to post a comment.