About Me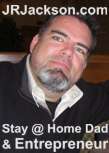 Welcome to my blog.
My name is J.R. Jackson and I live in Highland, Utah with my beautiful wife of 15-years and my four children.
I have been in the direct marketing/MLM/Network Marketing industry for 15-years.
In addition to earning millions of dollars in the direct marketing industry I have been a successful entrepreneur in the restaurant and construction industry.
I have been toying around with the idea of starting my own blog for quite a while.
What I do not want with having my own blog is to have yet another worthless site on the internet trying to pimp another get-rich-quick-scheme.
I want to add value to the internet by giving you real world tips, tricks and techniques on how to build your business. Most importantly your business does not have to be direct sales business. You might be a doctor, chiropractor or own another type of small business.
I charge $750 per hour to consult for MLM companies but I'm giving you my time here for free.
I will NOT be promoting any direct sales opportunity on my site. I knew if I did it would help me build my teams but honestly my teams are growing fast already. For example, I have recruited over 1,300 people in 4-1/2 months in a travel business and over 600 people in a nutritional company in 6-weeks!!!
Bottomline is I know what I'm doing and my goal now is to transfer that knowledge onto you.
All I ask of you is to join in by commenting on the messages I post. I will try to answer every post in a timely fashion.
Remember, Attitude NOT Aptitude DETERMINES Altitude!
Successfully yours,
J.R. Jackson